Our Process
We utilize a unique six-step process when working with our clients. This process is for securing your family's future.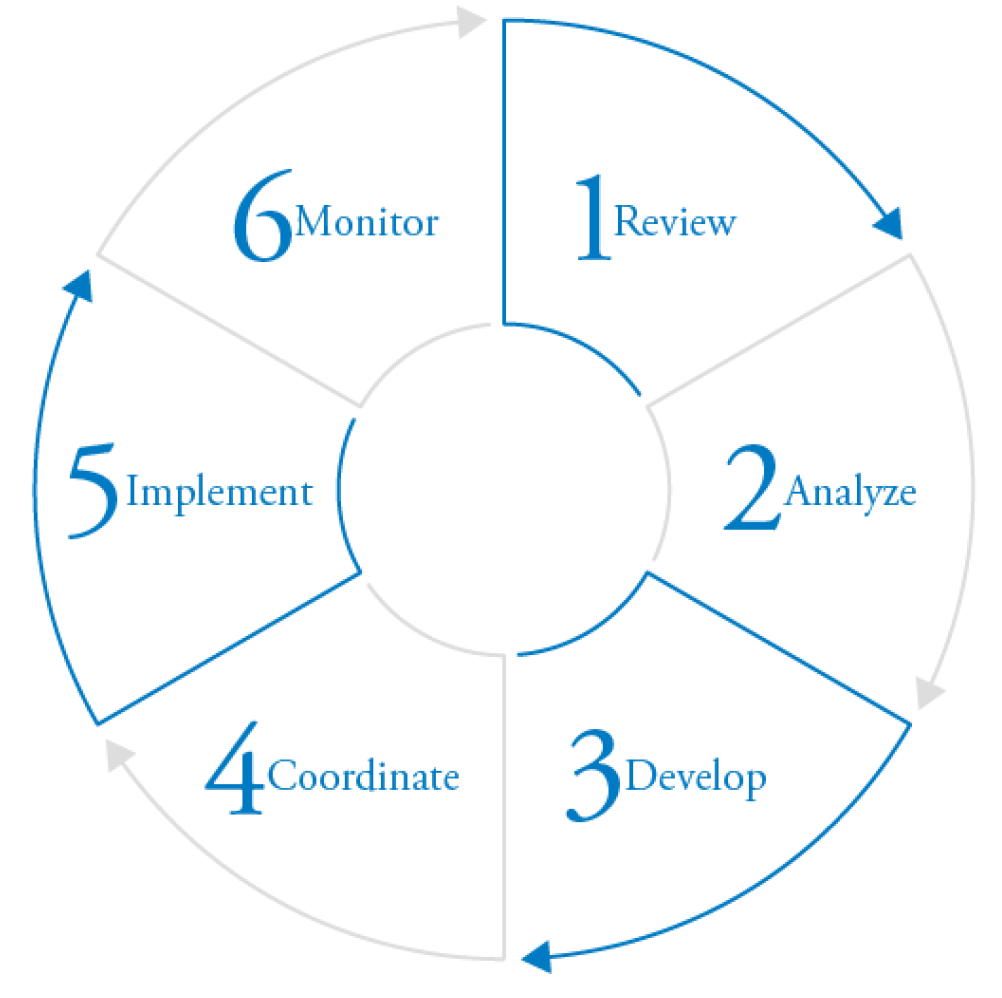 We understand the things that are important to you, and our relationship with you and the process for securing your family's future begins with that.
At Johansson Financial, we utilize a unique six-step process when working with our clients. It begins with getting to know you and what matters most in your life, and figuring out where you are right now financially, and where you want to go. From there, we work as your partner to chart the best course of action to help you achieve your goals and objectives while adhering to your personal tolerance for risk.
Once you're on the selected path, one of the great service benefits you will receive from us is that we stay in contact with you, and continue to monitor your progress. We make adjustments as needed as you transition through the different phases of your life. Read below for more details about the various stages of our client-centric process.
Step 1: Review
Review your individual situation and personal objectives. Every family's financial situation is unique. That's why it's so important to find out as much as we can about you and your financial goals. The more we know about you, the more precise recommendations we can make and the more we can help you. As a result, we may take some time to discuss your hopes, dreams and objectives and the things that really matter to you. This is the basis for the first meeting with anyone we sit down with.
Step 2: Analyze
Analyze and review your needs. We will work with you to identify and prioritize your objectives, and then help establish benchmark goals. This is important because we live in a world of unlimited choices. People often fail to achieve objectives because they try to accomplish too much at once, or they don't attach specific deadlines to their goals. By breaking down your goals to specific objectives, you can look at available resources and decide which goals are realistic, which need to be scaled down, and which simply must be abandoned.
Step 3: Develop
Based on our conversation and analysis, we can recommend the steps that it will take to help you achieve your financial goals.
Step 4: Coordinate
We regularly coordinate insurance and financial activities for clients with the other members of their team of financial, tax and legal advisors. We can do the same for you.
Step 5: Implement
We'll implement your strategy, and work closely with you and your other third-party professionals to ensure its success. We'll monitor progress and provide ongoing service as your needs and situation change over time.
Step 6: Monitor
This is not a one-shot deal. Strategies need to be adjusted periodically as your life and the economy changes. We will work with you over the years to help keep your program on track with your changing needs.
Neither Roger Johansson, LUTCF® or his staff, nor New York Life Ins. Co. or its agents or affiliates provide tax, legal, or accounting advice. Please consult your own tax, legal or accounting professional before making any decisions.